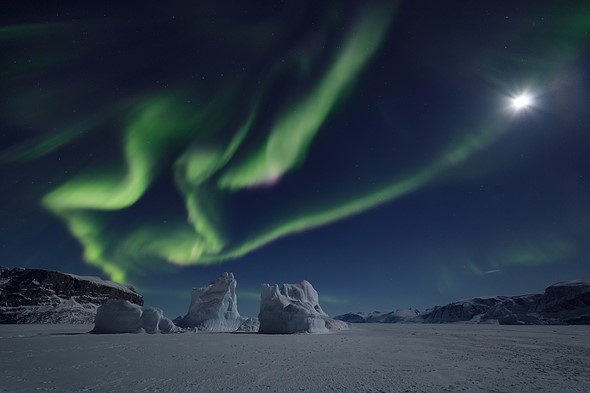 In the
previous article
, I wrote about reaching Uummannaq and the relatively difficult conditions I found in the beginning. Luckily, the days after the gale had passed were much more comfortable, so I began scouting around and shooting, and continued to do so throughout my stay.
The little guesthouse I stayed at was very well located—right next to the harbor. This was advantageous since, firstly, I didn't have to walk too far to get to the sea ice (Uummannaq's streets are steep and slippery in winter, not the best setting for a hike), and secondly, I had a very good point of view to judge the light and weather outside without having to dress up and walk out, which was quite a project.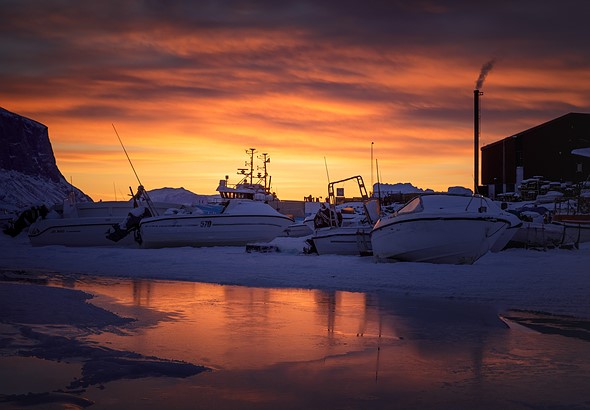 Sunrise at the harbor right next to my guesthouse
Throughout my stay in Uummannaq, my guide Paaluk and I walked and snowmobiled all around the Fjord and took shots of beautiful icebergs in various conditions, from overcast to pink sunrise light. It was astounding to be able to walk right up to these gigantic icebergs and shoot them without the need for a boat.
Note that the icebergs are mostly under the surface and since currents shift them, getting too close is dangerous and shouldn't be done without a local expert. Paaluk was very experienced in checking the ice with his spear and deciding what distance was safe for me to stand, and I trusted his calls.
Once I was several kilometers away from town, I also used my drone to get aerials of the icebergs and of Uummannaq Island. There is something so incredibly iconic about Mount Uummannaq, it's hard to look away. The scale can be very confusing—this mountain is 1,170 meters tall, and the island 7 km long!
The cold conditions can be quite problematic for drone photography. Yours truly has previously lost a drone to cold weather and was determined not to do so again. To keep the batteries warm, I kept them next to the heater in the room, put them into the sort-of-insulating polystyrene box and went on the shoot. I then usually put a battery in my armpit for 10 minutes, after which it was warm enough to operate safely... if a bit stinky.
Once the drone is up in the air the battery is kept warm on its own.
One of the definite highlights of this visit was shooting Mount Uummannaq in golden afternoon light, reflecting in the frozen lake Tasersuaq (Greenlandic for "big lake").
Paaluk drove me to the starting point of the hike and it wasn't long before we were walking on scaringly-clear black ice with a million patterns, cracks and even Canadian-style methane bubbles! Walking on that lake was a surreal experience, since at some points you could see all the way down through the ice. Rest assured, it was so thick it could hold a semi-trailer, so there was no risk whatsoever.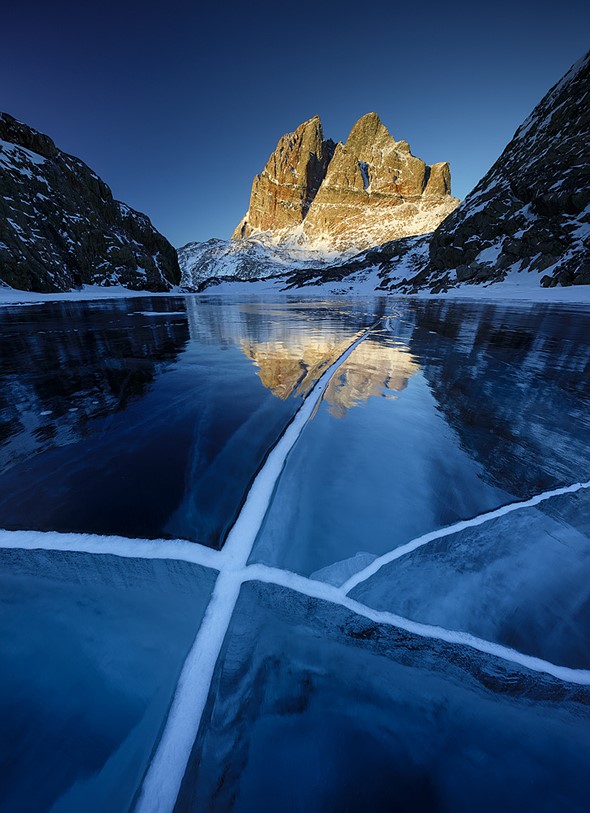 After shooting last light above the cracked lake Tasersuaq, I went back to the guesthouse and got updated with the Aurora situation. It appeared that a minor solar storm had happened, and that we were going to get some lights. The sky was totally clear and scheduled to remain so. The only question was when it would happen.
I returned to the lake with Paaluk and took a few moonlight shots, before the sky began turning green. It was looking pretty good, so I quickly decided to hike back to the icebergs embedded in the sea ice. Paaluk had to switch back to the snowmobile, and by the time he found me I was shooting very strong Aurora above the icebergs.
The lights gained more and more strength, and soon enough they were shining all around the sky, even to the north—quite a rare occurrence in Uummannaq, whose 70-degree latitude is too far north to be in the center of the party, figuratively speaking.
I shot the lights for several hours, and even took a few shots of Mount Uummannaq with Aurora above it. Even though the moon was a bit brighter than optimal, this had turned out to be the very best day of the trip.
In the next part of the series, I will tell you about my visit to Ilulissat.
Erez Marom
is a professional nature photographer, photography guide and traveler based in Israel. You can follow Erez's work on
Instagram
and
Facebook
, and subscribe to his
mailing list
for updates.
If you'd like to experience and shoot some of the most fascinating landscapes on earth with Erez as your guide, take a look at his unique
photography workshops
in
Southern Iceland
,
Northern Iceland
,
The Lofoten Islands
,
Patagonia
,
Greenland in summer
,
Greenland in winter
,
Namibia
and the
Faroe Islands
.
Erez offers
video tutorials
discussing his images and explaining how he achieved them.
More in this Series:
Part 1: Uummannaq Whiteout
Selected Articles by Erez Marom:
Continue reading...