Sparks Lake is located 25 miles west of Bend, Oregon, along the beautiful Cascades Lakes Scenic Byway. Sweeping mountain views, spring wildflowers and volcanic outcroppings make for naturally elegant compositions that beckon to landscape photographers. With a surface elevation of 5,433 feet, 780 acres of surface area and 10 miles of shoreline, Sparks Lake offers endless opportunity for exploration. Trout-filled waters, excellent camp sites and stunning natural scenery make Sparks Lake a favorite amongst photographers, paddlers, hikers, campers and fishermen.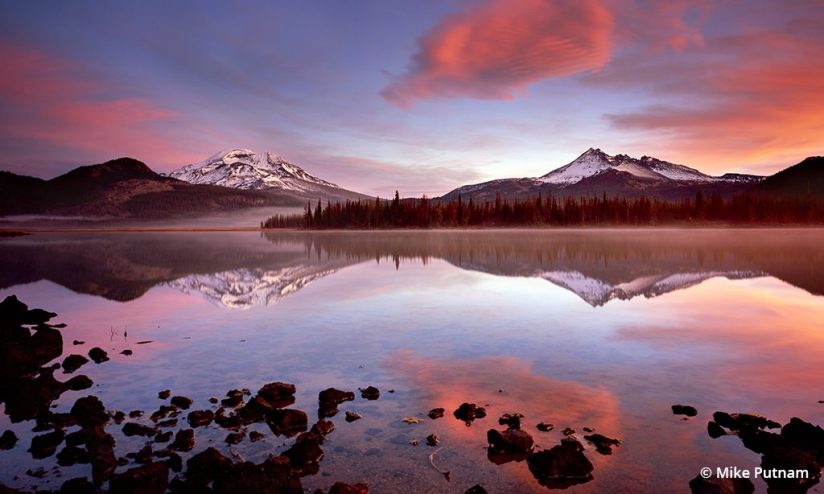 Weather At Sparks Lake
Winter weather at Sparks Lake is harsh. Nearby Mt. Bachelor Ski Resort receives over 450 inches of snow annually. The Cascade Lakes highway is closed from late autumn until late spring. Winter access requires an 11-mile roundtrip excursion on the snow-covered highway, necessitating cross country skiing skills, snowshoeing stamina or a snowmobile. Winter visitors should be prepared for heavy snows, arctic conditions and a frozen lake surface.
When the Cascade Lakes highway opens in spring, photographic opportunities abound. Meadows filled with yellow buttercups and pink mountain heather are a magical spring surprise. Summer bestows warm temperatures, bluebird skies…and mosquitoes. Be prepared with extra bug-proof layers and strong repellants. Autumn yields pockets of color from blueberry and huckleberry and fresh dustings of snow on the nearby volcanoes.
Photo Experience
As I live in the city of Bend, Sparks Lake is a short drive away. Because of its close proximity, endless compositions and sublime beauty, I've made approximately 100 visits to Sparks Lake. For this image, I tracked weather patterns, which I hoped would yield a fresh coating of high-elevation snow, a placid, unfrozen lake surface and an interesting cloud pattern. I was thoroughly rewarded. I found everything I'd hoped for with a bonus layer of morning mist hovering over the mirror-like lake surface. I was shooting an Ebony 4×5 film body and wanted to capture both South Sister and Broken Top mirrored in the lake, so I utilized a Rodenstock 75mm Grandagon-N, which is equivalent to a 25mm lens on a 35mm camera. I also employed a 2-stop ND grad filter on a LEE Filter system to give the image a bit more depth by adding some light to the rocks in the foreground.
Photographers will find interesting compositions with any focal length, but a variety of lenses is helpful. The scenery at Sparks is sweeping, clean and elegant, which urges me to grab a wide-angle lens. However, I recommend that you arrive at the lake with your longest lens mounted, as wildlife is abundant yet skittish. I've enjoyed photographing sandhill cranes, blue herons, bald eagles, ospreys, otters, beavers and mule deer while at Sparks.
Best Times
Spring, summer and autumn all offer fantastic photographic opportunities at Sparks Lake. Pockets of wildflowers can be found from June through August. Early spring will offer plenty of snow on the surrounding mountains. Mountain snow levels wane in late summer and are replenished in early autumn. Autumn and spring mornings frequently enjoy a layer of mist over the lake, offering added interest to mountain reflections.
While planning for golden-hour shoots is wise, midday photography can be rewarding with cooperative cloud formations. Morning will provide the most solitude at Sparks, and evenings will often include paddlers enjoying the lake's crystal-clear waters.
Weather forecasts at high elevations in the Oregon Cascades are notoriously fickle. I've had some of my best outings after defying gloomy forecasts and making the trip, only to find beautiful under-lit clouds during golden hours.
Iconic views of the lake can be found near the boat launch and on the Ray Atkeson Loop Trail that starts at the main parking lot. Intrepid photographers shouldn't stop there, as equally beautiful and less-photographed perspectives are available elsewhere along the shores of magical Sparks Lake.
Contact:
Visit Bend,
visitbend.com
.
See more of Mike Putnam's work at mikeputnamphoto.com.
The post
Sparks Lake
appeared first on
Outdoor Photographer
.
Continue reading...