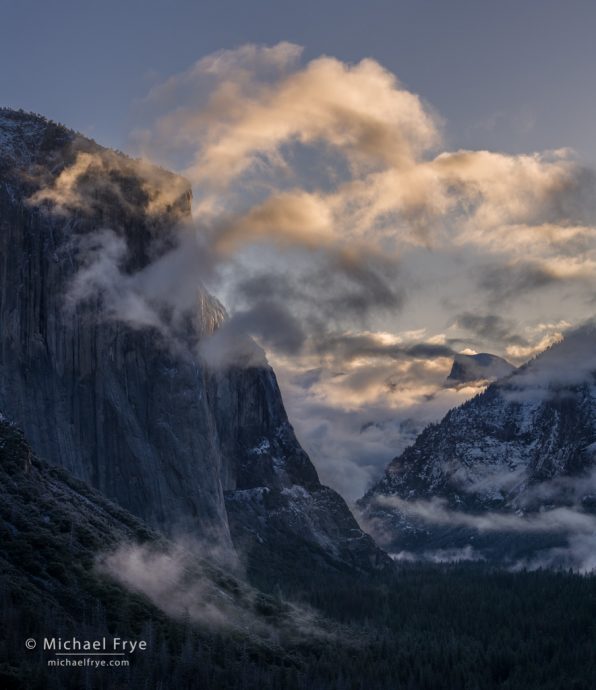 Clouds and mist from Tunnel View, Yosemite NP, CA, USA
We've had a series of storms recently. The last of these arrived Saturday and continued into the night. It wasn't much of a storm; Yosemite Valley received only about three-tenths of an inch of water. But it was cold enough to leave a dusting of snow on the valley floor.
It looked like the storm would clear during the night, so I left for the valley around 11:00 p.m. Saturday, arriving just after midnight. But clouds and snow showers kept lingering so I ended up dozing in my car. I woke up around 5:30 a.m. and saw a few stars for the first time. At least the clearing seemed well-timed for sunrise.
I started at Tunnel View, joining about 20 other photographers. There was plenty of mist down low, but also a bank of higher clouds to the east. I knew that bank would block the early light and delay the sunrise, and once the sun climbed over that bank and above Cathedral Rocks it would be right in our faces. So I wasn't actually very optimistic about the conditions. But the mist was interesting, and I could see some possibilities for black-and-white photos, so I decided to stay for awhile and see what happened.
The standard composition from Tunnel View is a horizontal image with a normal lens (around 40mm to 50mm with a full-frame sensor), putting El Capitan on the left side of the frame, with Bridalveil Fall and Cathedral Rocks on the right. (The first photo from my
last post
is a good example of this.)
This composition has become standard because it often works. But it's not the only choice, or necessarily the best choice for a given moment. I've used every focal length from 16mm to 300mm from Tunnel View, in both vertical and horizontal orientation, depending on the light and weather at the time.
From our vantage point at Tunnel View, that early-morning cloud bank yesterday extended up above Half Dome, but didn't reach the top of El Capitan or Cathedral Rocks. And above that cloud bank there was only bright, clear sky, much brighter than the mountains and mist. Including that bright sky in any composition would be problematic, because it would draw the viewer's eye away from more interesting stuff below. So I had to leave out the top of El Cap and Cathedral Rocks, using my 70-200mm lens to concentrate on tighter views of the lower rock formations. Here the focal length was 110mm: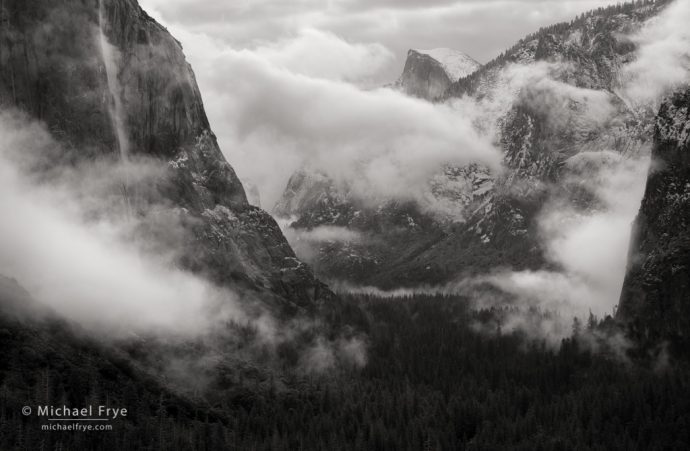 Misty scene from Tunnel View, Yosemite NP, CA, USA
Around 7:30, about half an hour after sunrise, sunlight started to hit some of the clouds and mist around Half Dome. Unfortunately, Half Dome was mostly hidden, but soon more of it emerged, so I made another tight, telephoto composition (150mm):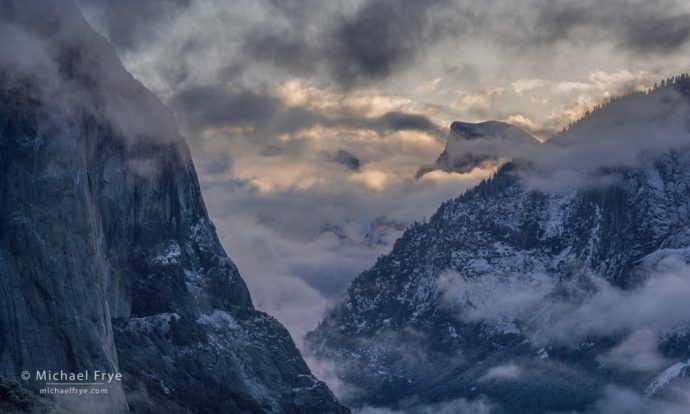 Half Dome through the mist from Tunnel View, Yosemite NP, CA, USA
And soon thereafter some of the mist started to lift, filling the formerly blank sky with some beautiful, curving shapes. I quickly zoomed out to 70mm, flipped the camera to a vertical orientation, and made the photograph at the top of this post. Then I put on my 50mm lens and made a horizontal image, but the tighter vertical worked better, because it filled the frame with only the parts of the scene with the most interesting light and clouds.
The clouds and mist kept shifting, and other interesting scenes presented themselves – all seeming to demand tight, telephoto compositions. The sun eventually crested Cathedral Rocks, shining right into our faces, and the mist started to dissipate. Time to move on. But it turned out to be a beautiful morning at Tunnel View, much better than I initially expected. You never know.
And throughout it all I kept adapting my compositions to the light, trying to find the framing that highlighted the most interesting part of the scene at that particular moment. The "standard" composition never seemed to quite work that morning, but fortunately there were many other possibilities.
— Michael Frye
Related Posts:
Subject, Meet Light
;
Courting Luck, Part 2: Adapting Your Composition to the Conditions
;
Michael Frye is a professional photographer specializing in landscapes and nature. He is the author or principal photographer of
The Photographer's Guide to Yosemite
,
Yosemite Meditations
,
Yosemite Meditations for Women
,
Yosemite Meditations for Adventurers
, and
Digital Landscape Photography: In the Footsteps of Ansel Adams and the Great Masters
. He has also written three eBooks:
Light & Land: Landscapes in the Digital Darkroom
,
Exposure for Outdoor Photography
, and
Landscapes in Lightroom: The Essential Step-by-Step Guide
. Michael has written numerous magazine articles on the art and technique of photography, and his images have been published in over thirty countries around the world. Michael has lived either in or near Yosemite National Park since 1983, currently residing just outside the park in Mariposa, California.
The post
Adapting Your Composition to the Light
appeared first on
Michael Frye Photography
.
Continue reading...