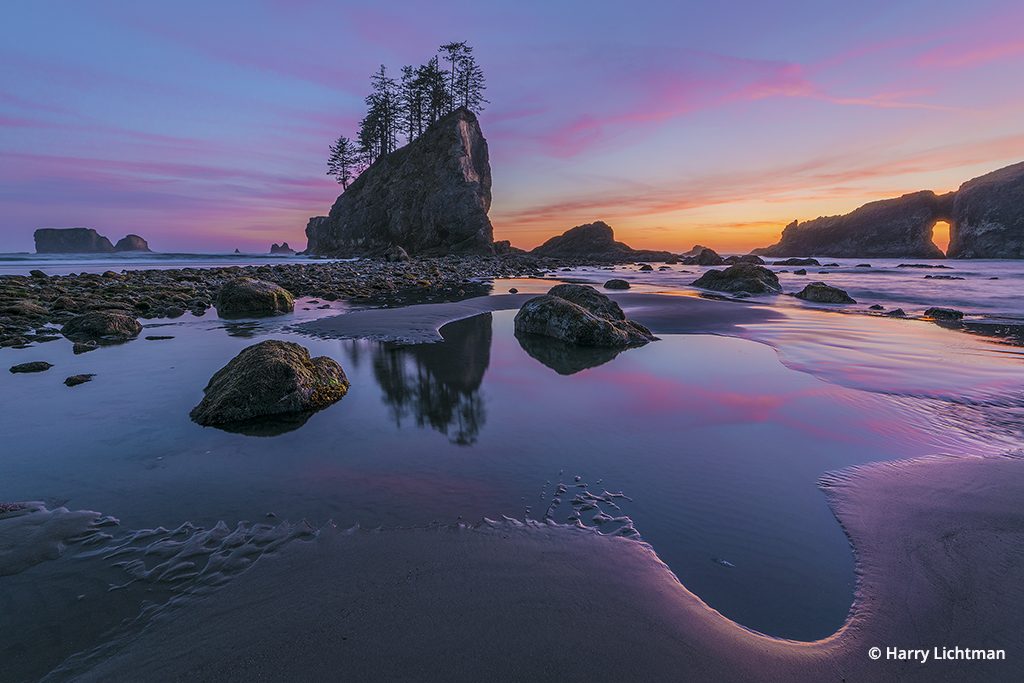 Photo By Harry Lichtman
Washington state is home to some of the most dramatic and accessible coastlines in the U.S. Second Beach, near the town of LaPush, is a gem of the National Park System and boasts sea stacks, arches, tidal pools and expansive areas of sandy Olympic coast. During a spring visit to Olympic National Park, Second Beach was high on my list due to such a concentration of natural features. Spruce trees growing atop rocky sea stacks were one of the most compelling attributes that enticed me to this beach. The spring sun sets in the direction of Quateata Arch, so the lighting possibilities were a bonus.
The forested walk to the beach is a gentle 0.7 miles, which can be an advantage as well as a detriment to successful photography. The short trail allows a quick response to weather conditions and lighting, often dreary and cloudy at the coast. Breaking fog can afford some of the most dramatic lighting. Easy beach access means that you'll rarely be alone during sunrise or sunset light since many other photographers and visitors will want to experience this vista at that time. Camping with a backcountry permit is allowed on the beach, so the concentration of humanity can be a bit overwhelming during the peak summer months when the goal is to take landscape images without tourists cluttering the view.
My first of six visits to the beach proved to be the best. I arrived late in the afternoon to get an idea of compositional possibilities. Many photographers like to use Google Earth or similar apps to try and plan shoots, but I find there's no substitute for on-site visits and a tide table to assess nuances in the topography. A receding tide was constantly revealing new details in the beach, such as reflecting pools and rocks, while creating access to shooting angles not possible during a higher tide. The wet sand left by the tide created brilliant reflecting surfaces for the sky as well as cleansing the beach of any footprints.
Sky contrails and footprints on sand can easily ruin pristine landscape images. By following the tide as it rushed out to sea, I was always working with a fresh palette. There was a photo workshop in close proximity, so I stayed close to the tide line to prevent other photographers from intruding into my wide-angle view. Some of the best lighting occurred after sunset, when clouds seemed to form out of nowhere and catch the pinks and purples during a post-sunset glow. Sand ripples and pools became more visible with the lower tide, so I stayed until most visible light was gone. I've learned over the years that it's never over until it's over, so waiting until darkness can create the most interesting images with longer exposures using today's excellent camera sensors. OP
See more of Harry Lichtman's work at HarryLichtman.com.

Nikon D850, AF-S NIKKOR 16-35mm f/4G ED VR at 17mm, Manfrotto 190 tripod, Really Right Stuff head. Exposure: 3 sec., ƒ/16, ISO 125.
The post
Behind The Shot: Olympic Afterglow
appeared first on
Outdoor Photographer
.
Continue reading...