I was out in Seaside, OR a couple weeks back and decided to test out the new Nikon nano coated 28mm lens. When I first saw this lens announced by Nikon I thought who would need this focal length and fast aperture? Its not really wide, its fast aperture isn't ideal for landscapes, its not a portrait lens, there are two 35mm 1.8G lenses (FF and crop now) for candid street shooting... and all for the low price of $700 (now it has a $100 discount).
With all that said I thought I'd try out the nano coating---which is used to reduce flare---and the fast aperture for isolating subjects while getting more of the environment
(on full frame cameras f1.8 is similar to a f1.2 on APS-C when you step back with the crop body to compose the same image).
This focal length and wide aperture should help me create some unique looking photos, if I use it for its strengths. I can also use it for large wedding group photos and the nano coating will help me with shooting at or near the light source, which I do sometimes.
I've added a couple of test shots at around sunset on the coast.
Data on depth of field:
(feel free to check my math on this)
FF Nikon D4 28mm f/1.8 = 4.3' DOF (for equal composition, distance to subject 10')
APS-C 1.5x Fuji X-Pro or similar 28mm f/1.2 = 4.22' DOF (for equal composition, distance to subject 15')
Conclusion: The lens does what its supposed to do well. Its not the most versatile lens but if you want to decompress your photo and have your subject still separated from the surroundings, this will do that. Its also a sharp lens that has good color, for wide-ish landscapes. The 50mm 1.4G lens will almost do the same thing with less distortion but it will compress the photos more.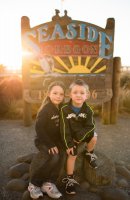 Last edited: