Super Moderator
Staff member
At 62 pages, the original (2013) Edmonds wildlife thread was getting a bit cumbersome.
http://www.pnwphotos.com/forum/showthread.php?7934-Wildlife-of-Edmonds-WA
I am starting a new local wildlife thread for 2014. This will also help me in the year ahead recall when I saw a particular bird the previous year. We birders/bird photographers often do that.
Wesley and several of his "friends" were having a New Years Day party at the #1 viewing platform of the Edmonds marsh. At one point three or four of them were chasing each other, but they were too fast for me to photograph their high speed antics. I had to do some post processing with these shots as the originals were slightly over exposed, possibly due to the low morning winter's sunlight reflecting off the birds' light colored feathers.
Two were engaged in a stare-down.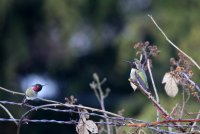 One flew up and perched near the other. This is most unusual for male Anna's, as they are quite territorial.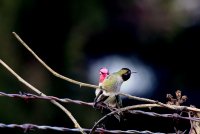 Eventually a chase ensued and one returned. I don't know what the white circle is, but I thought it made an interesting background.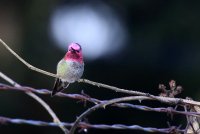 "Artsy" take-off shot.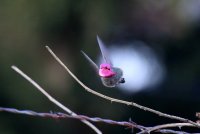 Perched on the barbed wire fence.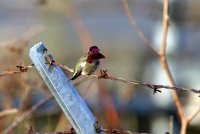 Last edited: