Super Moderator
Staff member
Our local resident bald eagle season runs from mid-October through mid-August. The eagles disappear from mid-August through mid-October. I don't know there they go, but I assume it is somewhere where salmon are spawning.
The Pt. Edwards eagles returned Oct. 13th in 2011 and 2012. Last year they returned Oct. 7, so I start looking for them on the first of October. There was a report on
Tweeters
, an e-mail birding list for the state of Washington, that a flock of eagles was seen the day before in the air over Mukilteo, located just north of Edmonds.
Thursday (
10/2/14
) my son and I were at the fishing pier with my 5DIII + 500L telephoto lens + 2x teleconverter. I snapped some shots of the spar at Hutt Park, home to the Hutt Park pair of bald eagles. Close examination of my photos showed two large birds passing by the spar.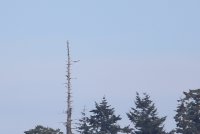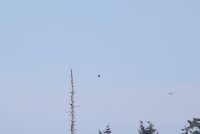 As I was leaving the pier, something scared the hundreds of gulls roosting on the marina breakwater, the usual sign of an eagle passing overhead. I looked around, but did not see an eagle.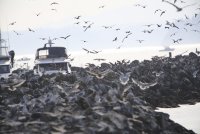 My son and I went to check things out at Pt. Edwards and there it was, one of the Pt. Edwards pair perched on one of their regular perches at the end of Pt. Edwards Place. The eagle has landed and the 2014/15 eagle season has begun.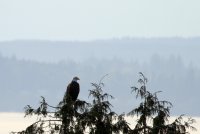 A nearby heron was looking towards the eagle and probably thinking, "There goes the neighborhood........ again."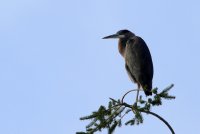 Last edited: